Do's and Don'ts When Running a Facebook Contest
December 11, 2017 /
Running a Facebook Contest or Sweepstakes
Sweepstakes, contests and giveaways are increasingly popular among organisations who are vying for the attention of their social media audiences and for good reason as they can be very successful. When running a promotion make sure you understand what kind you will want to use:
Sweepstakes are prize giveaways where the winners are randomly chosen.
Contests choose a winner based on some merit. The winner is chosen based on some criteria such as best photo, most votes on a video, best recipe, etc.
We've been keeping an eye on Facebook and have found that many are violating Facebook's Guidelines when running a sweepstakes or contest. Note, this article is not intended to be legal advice but rather suggestions about how to best comply with Facebook contest rules online.
Here are 3 examples of Timeline contests that violate the new Facebook Promotion Guidelines.
1. Cannot ask People to Like the Page to Enter

You cannot ask people to 'Like' your Facebook Page as a condition of entry. Facebook's reasoning behind this is that it wants users to become a genuine fan that they want to receive news and information from a particular organisation not as a one-off chance of winning of a prize. From an organisation's point of view it's actually better to have quality fans not quantity. We have found that when running a contest on Facebook, even though we have not asked our users to like the Page, a number do anyway.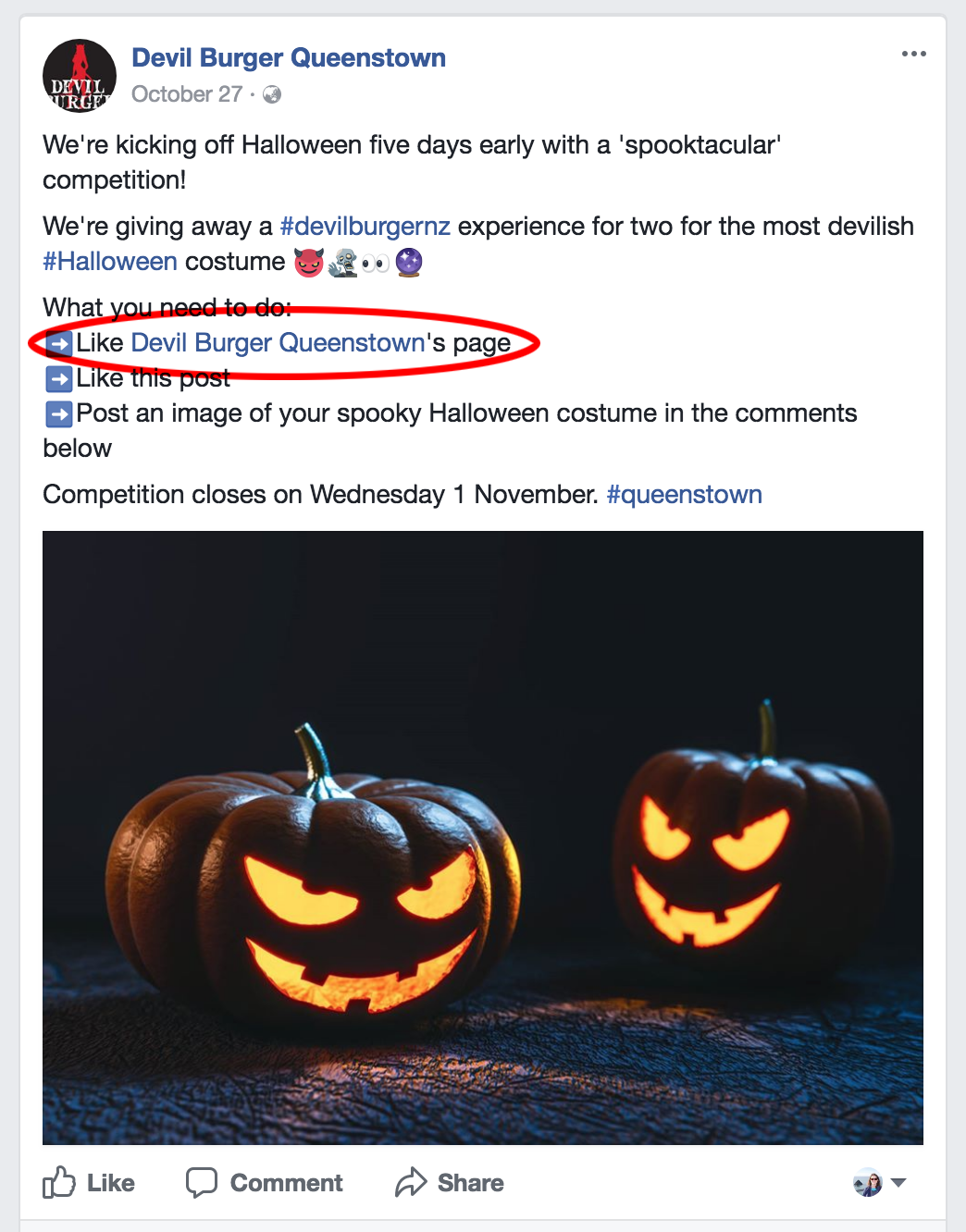 2. Can't "Tag to Win"
Many businesses do not know that they are not allowed to ask people to 'Tag' someone for a chance to win.
Facebook has prohibited businesses from tagging or encouraging people to tag themselves in content that they're not actually depicted in. For example, it's alright to ask people to submit names of a new product in exchange for a chance to win a prize as part of a Facebook contest. However, asking fans to tag themselves in pictures of a new product in exchange for a chance to win a prize, is not permitted.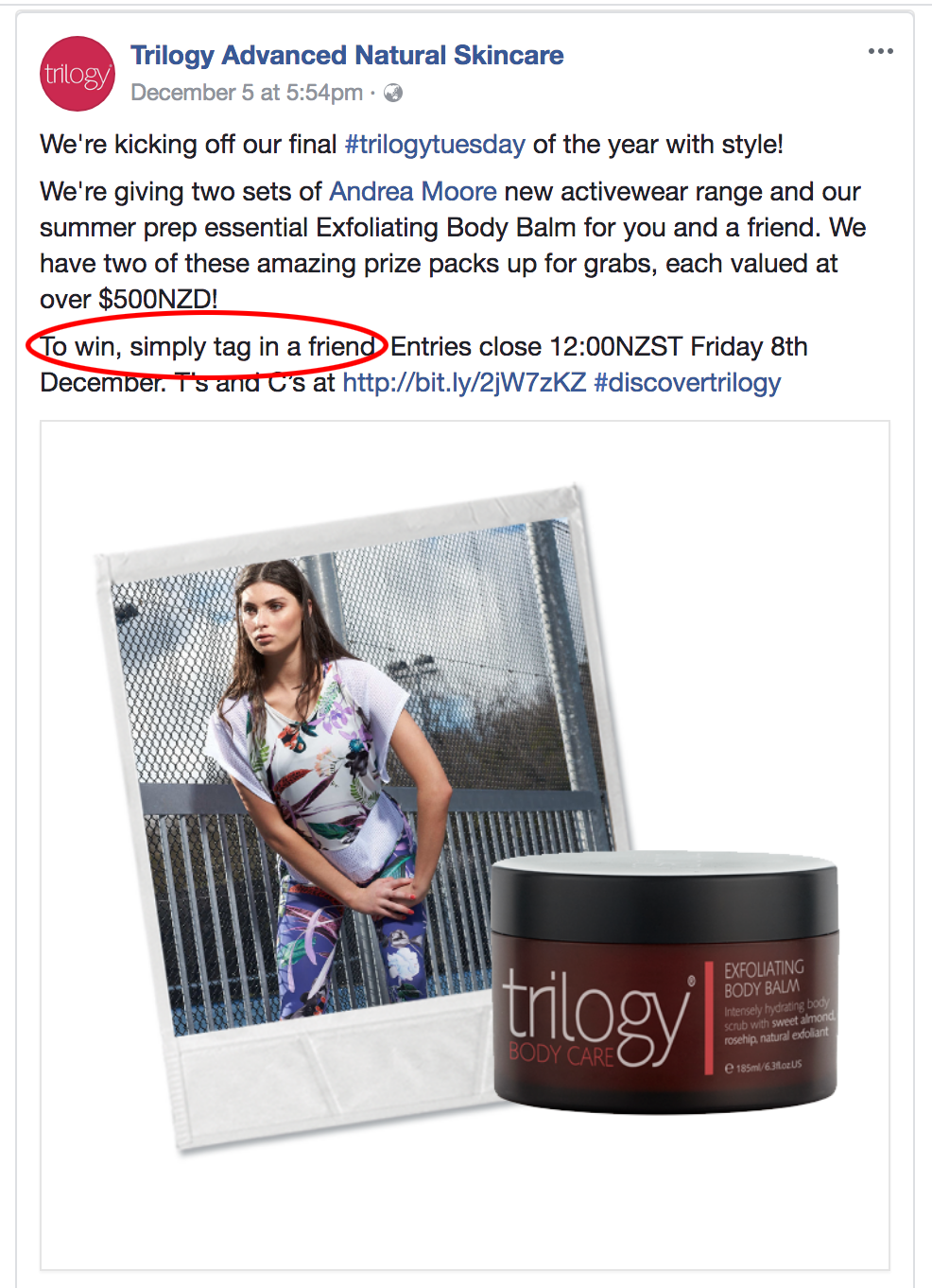 3. Not Permitted to ask Fans to "Share this Post"
Facebook quite clearly states that you are not allowed to ask users to Share your post, however many businesses are unaware about the consequences and do this anyway. If you want to promote your competition wider than your current fans, then ask them to Share the competition post but don't tell them they have to in order to enter. Or use a third party app which has built-in viral sharing posts for each entry.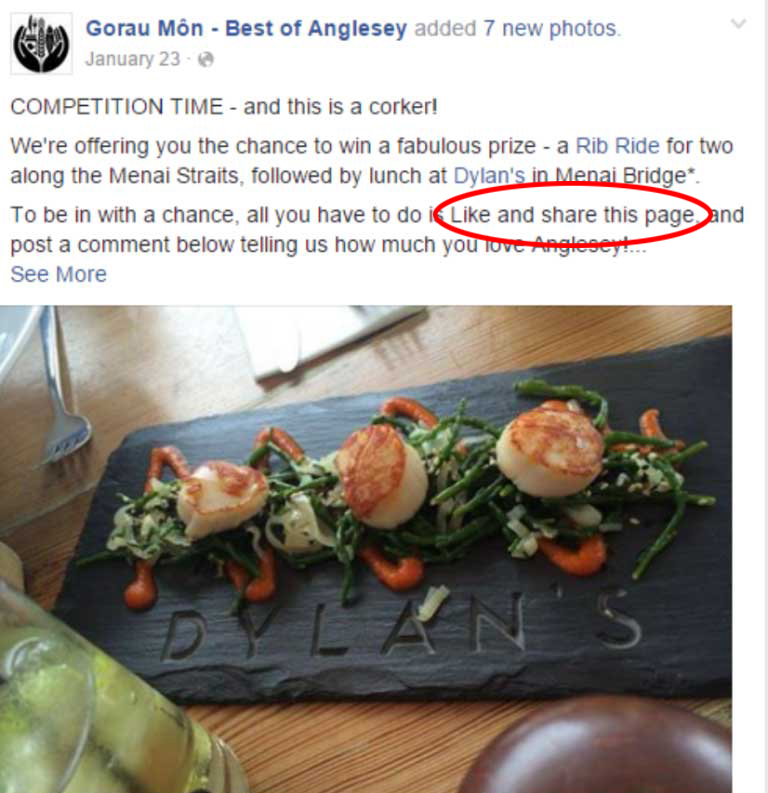 4. The Promotion has no terms and eligibility requirements
It is important to include the terms and conditions of your promotion such as any age and residency restrictions. Details of the start and finish, the entry process, who the promoter is, the number of times users can enter etc. You must also comply with applicable rules and regulations governing the promotion and all prizes offered relevant to the country you are operating in. Using the 'Notes' tab in your Facebook Page is a great place for the Ts&Cs.
This is What Facebook says About Promotions:
1. If you use Facebook to communicate or administer a promotion (ex: a contest or sweepstakes), you are responsible for the lawful operation of that promotion, including:
The official rules;
Offer terms and eligibility requirements (ex: age and residency restrictions); and
Compliance with applicable rules and regulations governing the promotion and all prizes offered (ex: registration and obtaining necessary regulatory approvals)
2. Promotions on Facebook must include the following:
A complete release of Facebook by each entrant or participant.
Acknowledgement that the promotion is in no way sponsored, endorsed or administered by, or associated with, Facebook.

3. Promotions may be administered on Pages or within apps on Facebook. Personal Timelines must not be used to administer promotions (ex: "share on your Timeline to enter" or "share on your friend's Timeline to get additional entries" is not permitted).
4. We will not assist you in the administration of your promotion, and you agree that if you use our service to administer your promotion, you do so at your own risk.
How You Can Ask Your Fans To Enter Your Facebook Contest
You are allowed to ask users to "like" or "comment" on your post or combine the two together. Quite often businesses will ask users to Like as well as comment to get the maximum effect.
See examples below of what you can ask your fans to do in order to enter your competition.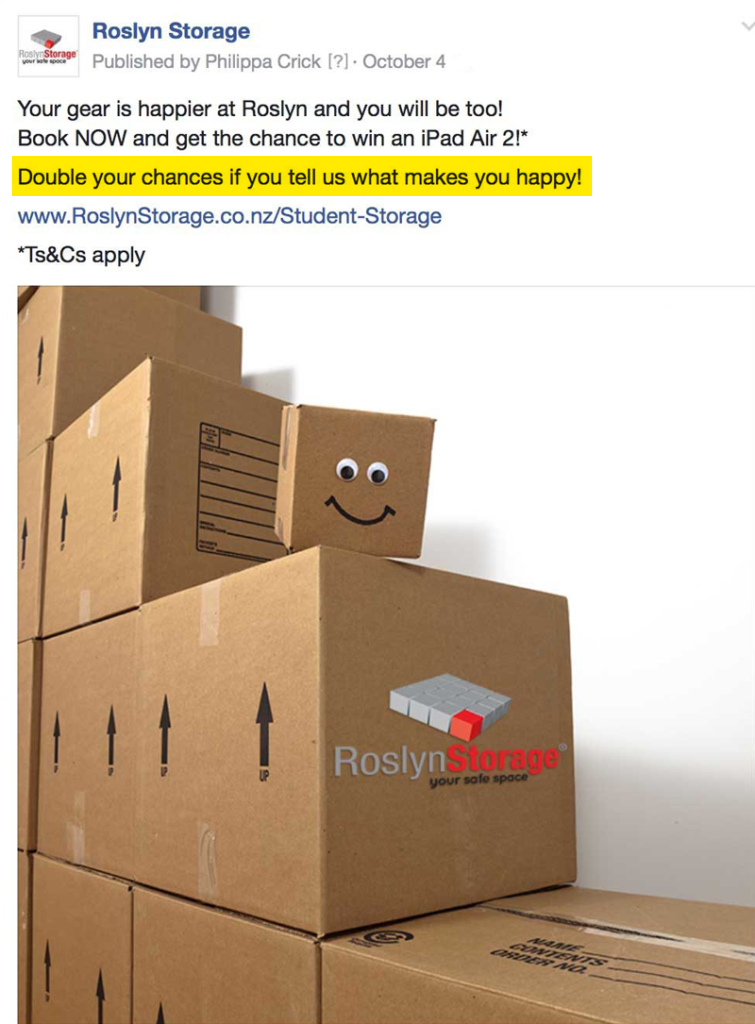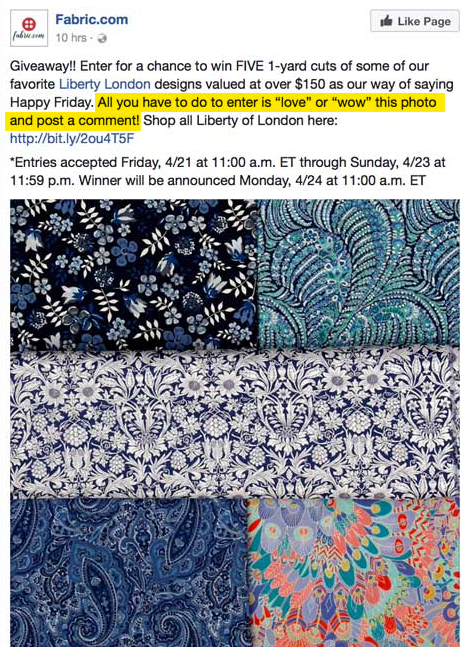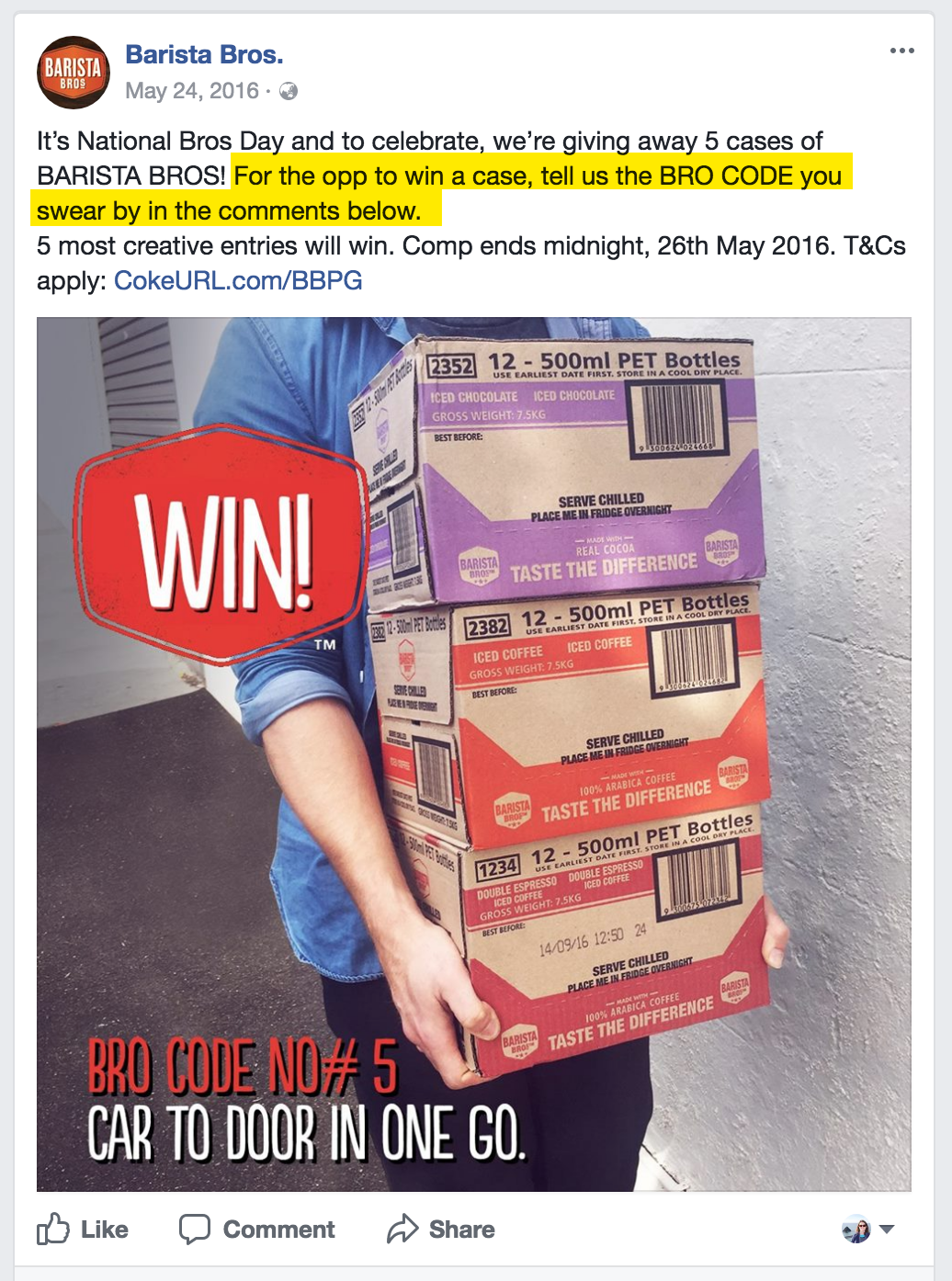 Although you can't tag a friend as a condition of entry, you could ask your Fans to tag a friend who they would bring if they won a prize that involved someone else, such as a double pass to an event. This example below from Beau and Belle Littles shows how they have violated Facebook guidelines by asking users to like their Page as a condition of entry but also illustrates a clever and approved way to get comments for their giveaway.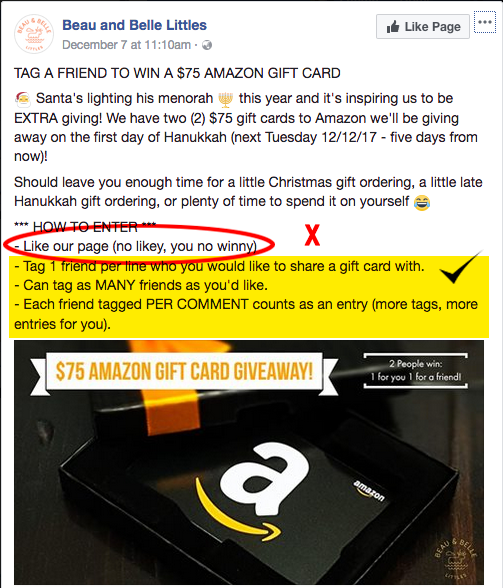 After the Contest
After you have run your contest and the winner has been drawn you may think you are finished but there's just one thing left to do: Announce (and contact) the winner. To be sure you've run your contest within Facebook's guidelines you must notify your winner before announcing anything on Facebook. The other entrants will be checking your Facebook Page to see if they won or who won. And with Facebook's update to their promotion guidelines, you can announce contest winners with a Facebook Post. Best practice would be to email the contest winner, then if the winner consents, post a photo of them as a winner on either a blog post or as Facebook post.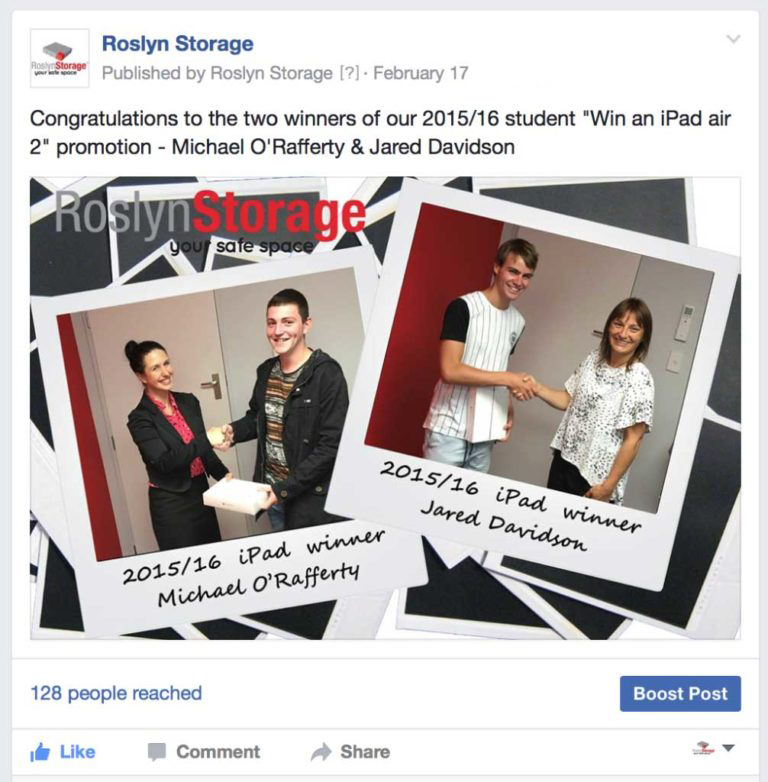 Facebook Contest Do's and Don'ts Summary
YES, you can ask people to do the following as a condition of entry:
Like a post
Comment on post
Answer a question
Add a photo to a post
Post on a Page
Message a Page
Submit names for a new product
Tag someone who they would like to bring with them if they won tickets
Check-in to your business
Post directly to a Page's wall
NO, you can't require people to:
Share a Page to a user's personal timeline
Share a post to a user's timeline
Like a Page to enter
Like a different Page to enter
Like multiple Pages to enter
Tag themselves in your post
Tag other people in your post
What Will Facebook Do?
You may ask "but what will really happen to my Page if I ask users to like my Page to enter?" Maybe not much. However, you might get Facebook's attention through consistent promotion guideline abuse. If you're constantly running promotions that ask and incentivise users to tag, like a Page or share a post, you might get in trouble. Plus, if anyone reports your Page then Facebook is immediately alerted to any violations of their guidelines. Anything from a strongly worded message from Facebook itself to punishment of you Page such as:
suspend fans from liking your page for a certain period of time
remove the likes that were accumulated over a certain period
take your page access away
or completely delete your page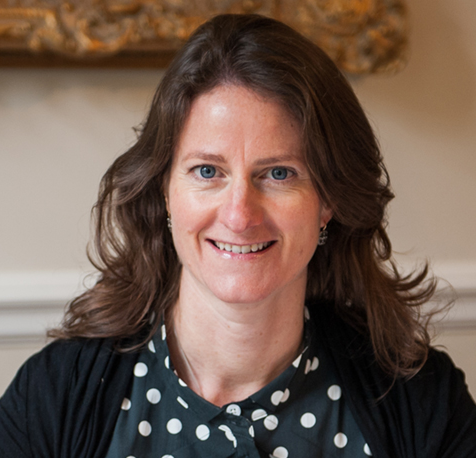 Philippa runs Cre8ive Marketing, an advertising, design and digital marketing agency that was originally established in Dunedin in 1978. An experienced Digital Marketing Expert in websites, email marketing, social media and Google Adwords with over 18 years experience across a myriad of sectors. Philippa is also a regular guest speaker at events and marketing trainer for businesses.